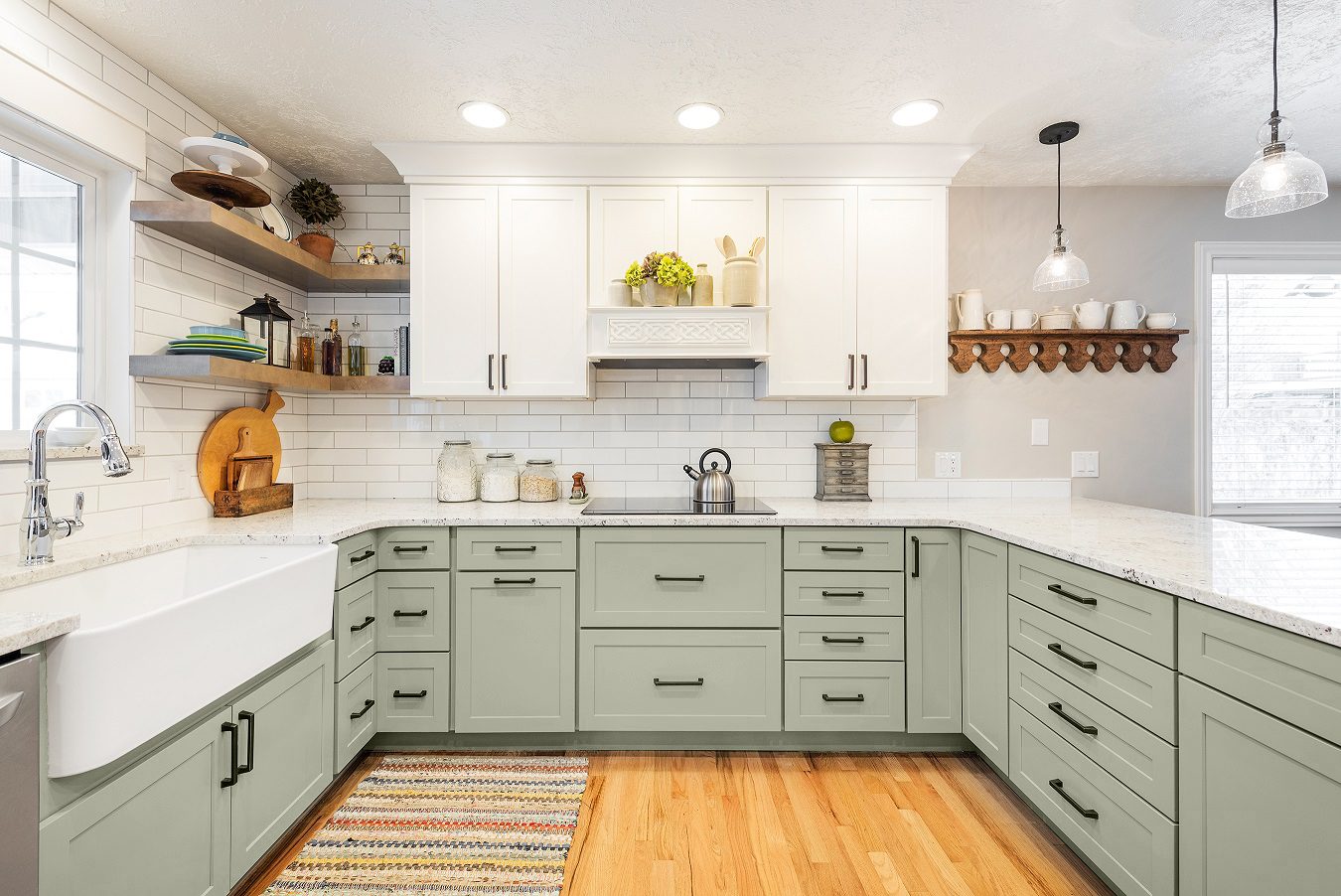 October Mist – which could easily be the title of a romantic-era novel featuring idyllic landscapes of the English countryside and the whimsies of a Jane Austen–like ingenue – is actually a paint color.
But not just any paint color: a Benjamin Moore Paint Color of the Year. On the company's website, October Mist is described as evocative of a flower stem, "a gently shaded sage that anchors and uplifts."
These days, who doesn't need to feel anchored and uplifted? As we're all spending an increasing amount of time in our homes overall, it's important to cultivate a home that is our last bastion of serenity, warmth, and rejuvenation. The ethos of October Mist reflects these intentions. It's also calling attention to autumn and the symbolism of fall, a time of harvest, fertility, and abundance as well as a time of great change and letting go.
Hello, 2022! Here are a few themes Interior Logic Group recommends for incorporating October Mist into homes and design studios.
Cozy & Calm
This pigment is perfect for a living room grounded with books, a fireplace, and throw blankets. It's also a great accent for a bathroom wall or bathroom cabinets, providing an earthier and more nuanced tone for bath and shower expeditions. It could even be used in that spare bedroom that would be perfect to convert into a yoga/fitness room.
This color could even serve as the impetus for finally clearing that room out and adding a yoga mat with sound bowls or a Peloton (to each their own). Additionally, the sage green pairs beautifully with granite, quartz, or marble countertops for your latest kitchen renovations. The great thing about October Mist is that it's calm and simple, but it's not white, so it provides an overall sense of uniqueness without being too quirky.
Flamboyant Flair
Another great thing about October Mist is that it also knows how to have fun. It's not a hue confined to the calm, minimalist meditator, but can pair just as well with a Moroccan rug or provide as a soothing backdrop to a playful, rococo painting or poster. Homeowners are free to add as much color and personality as they would like with October Mist.
In 2022, there's appears to be an untethered desire for self-expression amongst the collective. We're all ready to get out of our caves and paint the town—not red, but sage green?! There's definitely a tone of absurdity along with the "zen" mood of tranquility and desire to rekindle our connection to nature. And that's what's cool about October Mist: it holds space for both. One moment you can feel like a hermit who just wants to unplug from the world and the next moment, you can feel totally zany and ready to party with your fellow humans.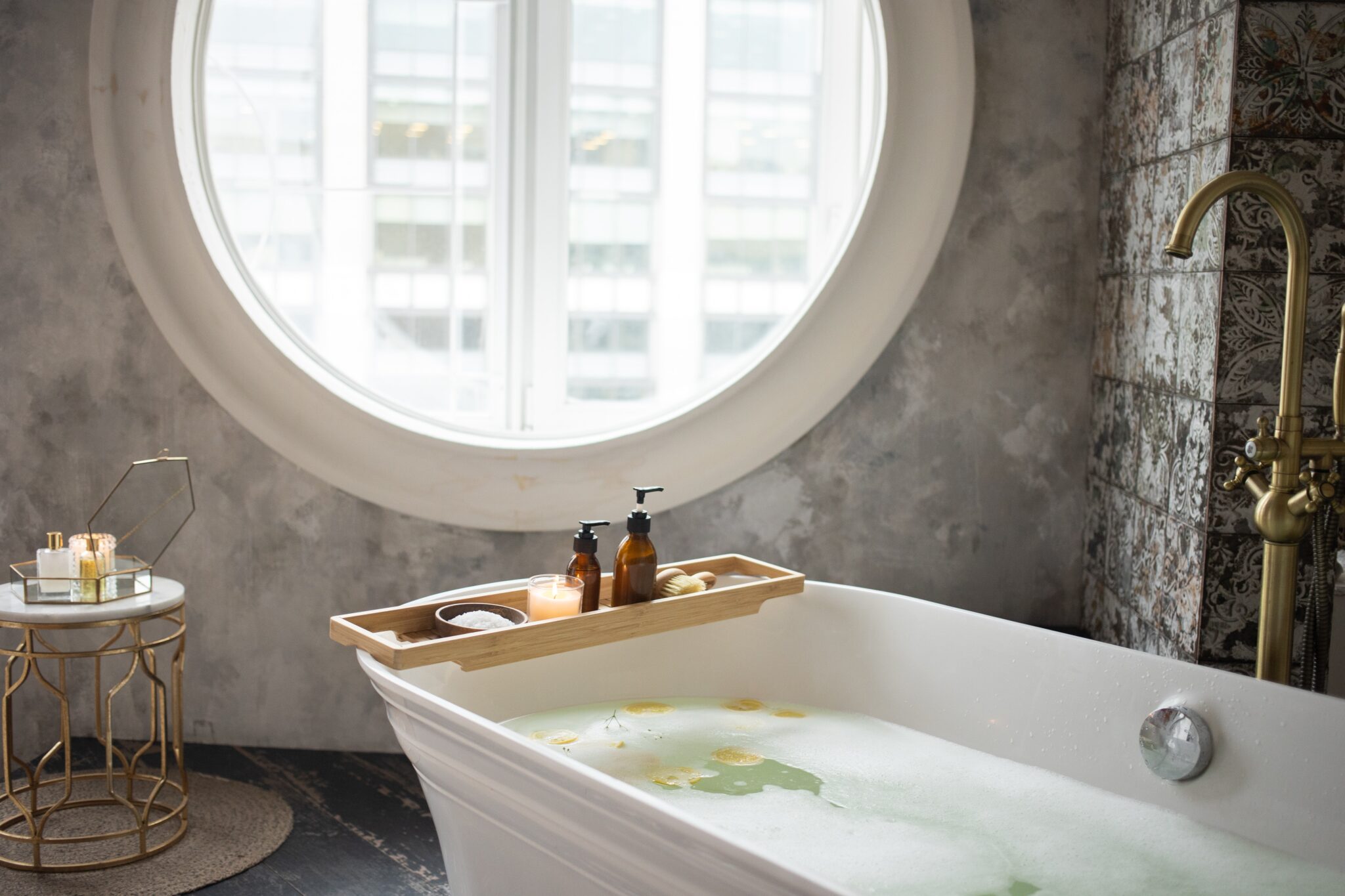 Biophilic Design
This sage green reflects the wisdom of plants—like sage itself, for one! With the rising "indoor plants everywhere" trend, October Mist also serves a supporting haven for this shift to overall biophilic design. Natural materials such as wood, limestone, etc. pair heavenly with October Mist, like cheese with a fine wine. Some elements just go together. We can't explain it, but we can feel it at a sensory, intuitive level.
October Mist has its place in many design interiors. Whichever motif you choose – cozy & calm, flamboyant flair, biophilic design, or a completely different theme – this hue's ubiquitous nature can enhance and nurture the best features in any part of the home.