In the era of the 2020s, homebuyers' needs have shifted. The pandemic drew people to value simplicity and health. More gatherings in the home, more awareness of our environment, and how consumer goods are sourced. Across generations, homebuyers value safety, sustainability, and community more than ever.
This, in turn, affects the needs of builders. How can they best cater to these societal shifts as they translate to construction and design?
At ILG, we specialize in tracking these homebuyer trends so we can further advance our industry and educate builders on homebuyers' needs—not just for today, but also for tomorrow.
Looking at future homebuyers' needs is critical. According to the 2021 National Association of Realtors (NAR) Homebuyers & Sellers Generational Trends Report, Millennial buyers ages 22 to 30 years continue to make up the largest share of homebuyers at 37% (older Millennials at 23% and younger Millennials at 14%)—and Gen Z is right behind them. This younger demographic will also greatly impact how builders cater to macro generational changes in preferences and values.
In this blog, we will redefine what buyers need in a home. Specifically, we will be exploring the cherished concept of the kitchen, sustainable and green innovation, and how the cultural shift toward wellness is blending with integrative tech to create a new hybrid system of home design and construction.
A Larger Kitchen—& Dining Al Fresco
We've said it 100 times and we'll say it again: the kitchen is the heart home—now more than ever.
The pandemic has humbled Americans in many ways, which plays into our view of the kitchen. Perhaps it is more resonant of Italians, where the kitchen is a temple for joy and community—it's our la dolce vita, our sanctuary in a hyper-digital world of constant interruptions and 24/7 news. We need a haven from the outside world, and the kitchen has taken on that role.
Builders need to understand this romance with the kitchen and spend time carefully curating larger kitchen spaces flooded with light and designed for gathering. They must also prioritize kitchen construction as a great investment for the next set of homebuyers. Kitchen renovations are generating strong ROI when homes are sold, as homebuyers are increasingly looking to the kitchen as a make-or-break point in their decision. Therefore, builders can leverage their expertise by creating a modern, spacious kitchen that reflects the individual preferences of their customers.
One fun preferential trend we are noticing is the rising demand for outdoor kitchens as people long to return to nature and to each other. This extends beyond the barbeque to include high-tech space that fuses interior and exterior life. Elements such as wine refrigerators, beverage dispensers, pizza ovens, fireplaces, and high-tech cooking appliances are causing major buzz among builders who must expand the kitchen—not just inside, but also outside. After all, it's the little things in life (and pizza ovens are fun!).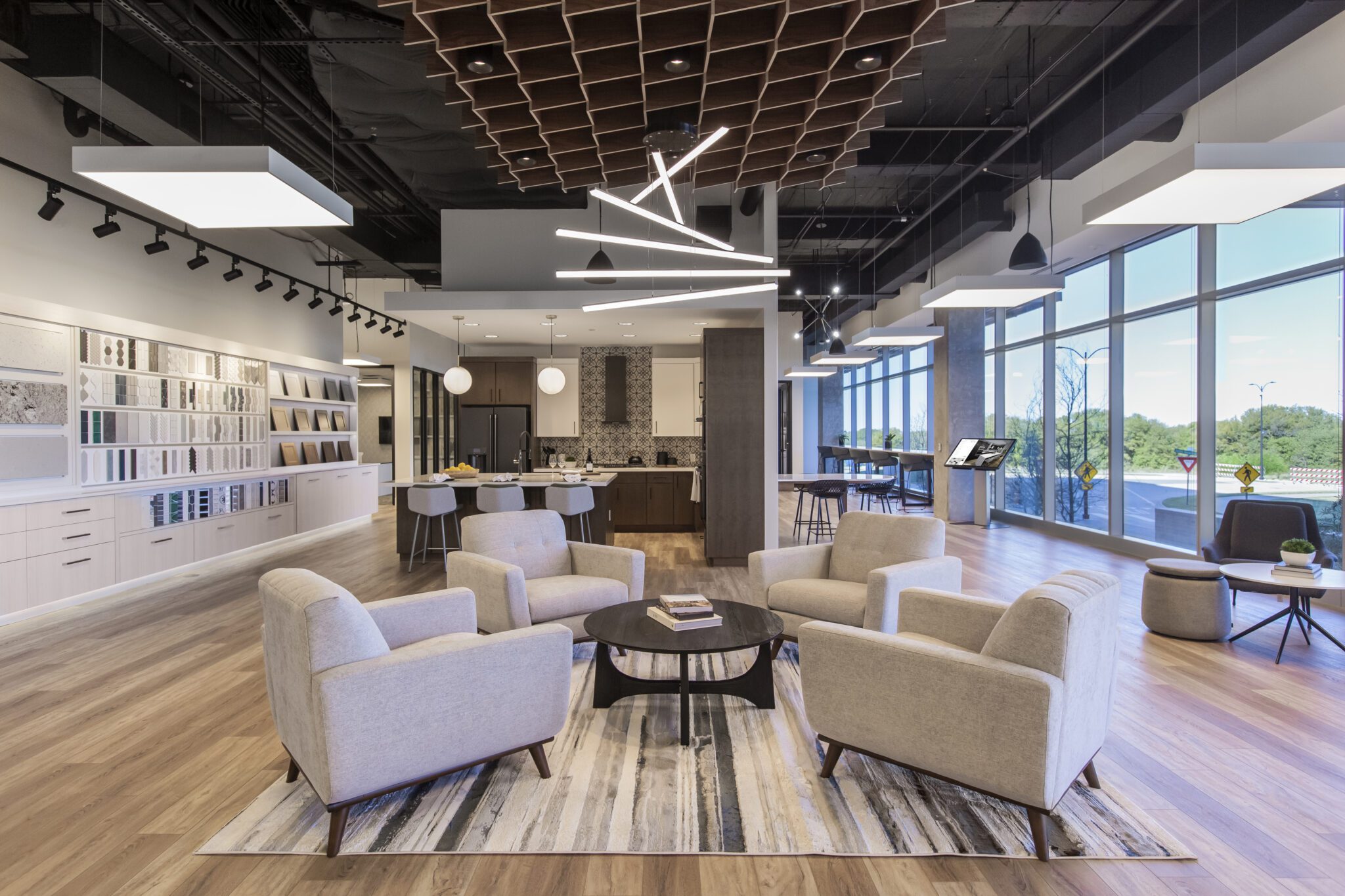 Energy-Efficient Everything
Utilizing greener materials, energy-efficient grids, and sustainable applications is another defining turn in the homebuilding process. Traditional building know-how, basic architecture, and engineering foundations are shifting to model high-tech and green innovation.
Research shows that 25% of homebuyers today value a home built with a portion of sustainable materials and concepts in mind. High-performing thermal layers (exemplified in well-insulated windows), passive solar design, and installing a drip irrigation system are all building methodologies that will increasingly become the standard.
It's also important for builders to think non-toxic and local when it comes to sourcing their materials. This reduces excess waste, shipping costs, and energy costs while supporting American-made products.
ILG can help builders coordinate with these local vendors and suppliers while working on their next project—to deliver that eco-clean and trusted interior finish. We have a large network of installation partners with whom we work closely. Given our local market scale and extensive experience, we offer a streamlined process and high-quality end results.
Health Boosting Tech & Smart Homes
As a "machine for living in" – Swiss-French architect Le Corbusier's term for a house – the home should serve humans' primary and primal functions. The structure should be timeless, comfortable, safe, secure, while embodying privacy and wellness. According to research, the 2030s will be defined by social, cultural, and policy rules that were reframed by the seminal event (so far) of our era: the pandemic. Because of this, wellness and technology are meeting one another in seamless union. Thus, health-boosting tech.
Health-boosting tech is a great feature to improve the quality of the home's environment and increase home value. According to research, 17% of homebuyers ages 22-30 years would buy a new home for its Smart Home features.  Homebuyers of today prize a serene haven as the environment for their home—which can be achieved through elements such as heated floors and HVAC systems that emit essential oils like eucalyptus. This "spa" experience is becoming more common, not just because of demand, but also because of the improvement and accessibility of tech that's streamlined as one unit. This makes these innovations more affordable for more consumers and easy to install.
Homebuyers of today also want physical safety, tangible proof of cost savings, and remote access, which Smart Home tech provides. For instance, through this technology, you can open the door for a friend or family member who needs to access your home, or you can lock or turn on security systems when you're away.
Lighting control is another way to maximize wellness and reduce carbon footprint through "the Internet of Things." According to The Seattle Times, "Through crafty programming, lighting systems can be set to fully automated schedules that will turn off, dim or brighten whenever you want. Some systems can even detect whether you are away from home and turn off the lights to maximize energy savings." This technology reads your needs and preferences before you are even aware of it yourself. It also saves energy and money and provides you with improved security that feels effortless.
Just as hardware and software are melding together in other industries, the same goes for home building. It's necessary that builders understand this irreversible paradigm shift as they take on new projects and stay current on rapid innovations and latest trends in homebuyer preferences. ILG continues to lead the industry by providing key insights into these design and installation trends, making it that much easier for builders to create dream homes for their clientele.