Decorating and renovating the kitchen can be a great passion project in addition to greatly boosting homebuyer value—that is, if it's done right.
In today's techy age, trends come and go with swiftness, from the news cycle, fashion, and of course, design. But amidst all the fast-paced fads, certain designs and color palettes maintain a classic and timeless feel.
Today, we will explore a few of our favorite kitchen color palettes that exude that timeless decorum, while still embracing a distinctive style.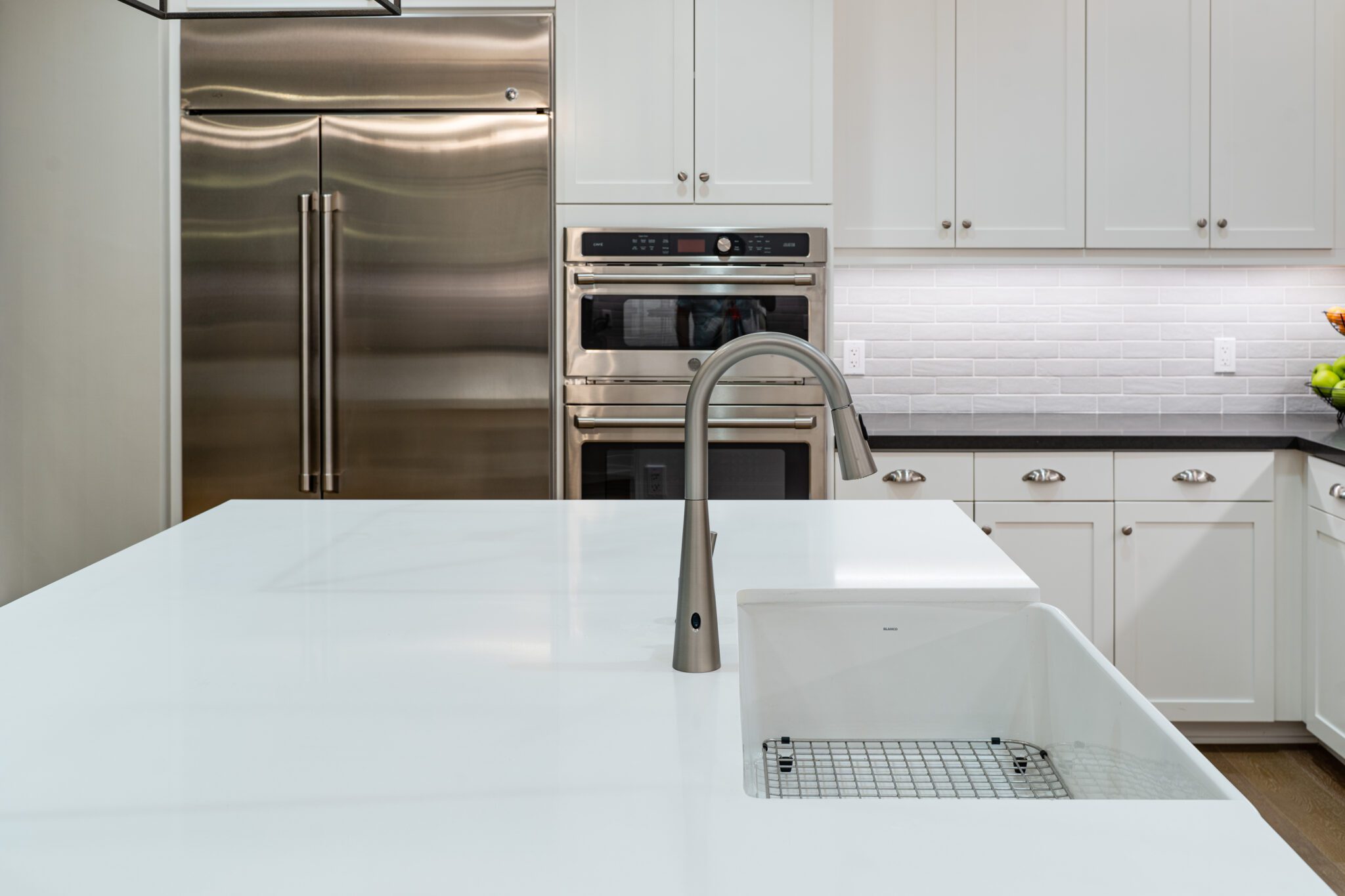 White & Bright 
The Farmhouse-style craze enhanced the popularity of the all-white kitchen we commonly see today, beloved by millennials and prevalent on Instagram. Although many would say that the Farmhouse home (as a whole) has run its course, the white-centric kitchen design style of the modern farmhouse is here to stay. In fact, the National Kitchen and Bath Association (NKBA) reported that in 2019, 72% of farmhouse kitchen designs featured a white color palette.
White is a great go-to for a kitchen as it not only enhances the open floor plan of the kitchen—which is another popular design style of today, but maximizes light, too.
Homebuilders and designers can also play around with white design elements by utilizing accents and utilities. By incorporating the iconic farmhouse apron-front sink, one can add a splash of white to demonstrate this trend without going overboard. One can also utilize the white color palette through the use of quartz or marble countertops, or white backsplashes, to give off that iridescent sheen.
Over the past five years, we have seen a huge increase in the use of engineered quartz and marble countertops compared to granite, primarily due to its lighter complexion.
This is a great way to incorporate the white and bright design trend in a more subtle way. In fact, studies show that over 45% of designers agree that white countertops are the leading color preference of the modern homeowner.
Granted, white—if overused, can become almost too clean, or sterile. Therefore, it's recommended to choose warm toned whites for the kitchen, featuring blonde wood accents or floors, colored backsplashes, and warm, golden lighting to cushion the space and balance out any risk of going too white.
Studies show that millennials value spaces that feel light, bright, and devoid of clutter, so modern white kitchens are also a safe bet for homebuilders to use as a foundation, as well as for homeowners to keep in mind when renovating a kitchen before selling their house.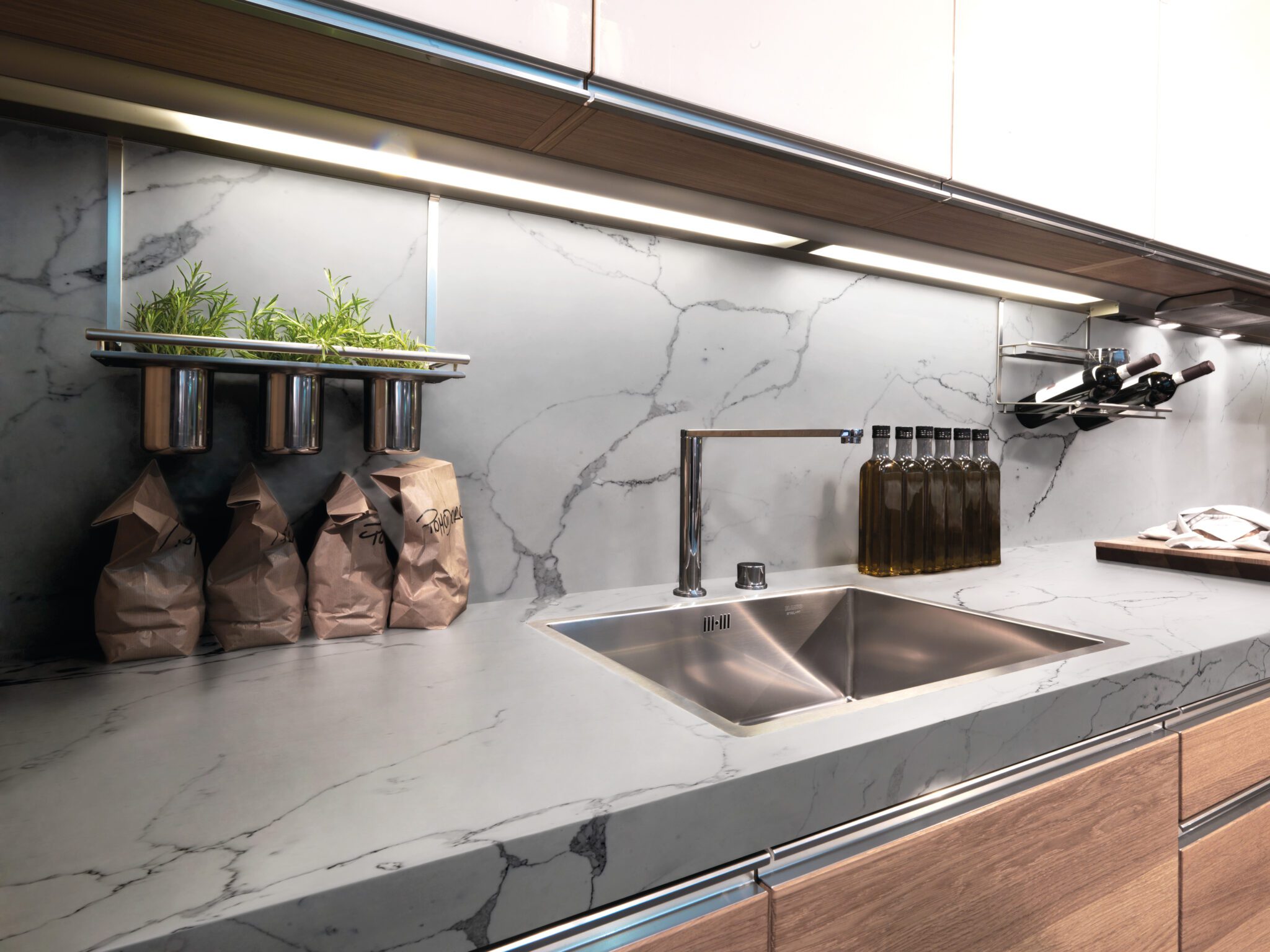 Dramatic Blue & Gold
Over the past five years, blue has become quite popular in the kitchen when used as both a dominant color and an accent. That's why blue cabinets with gold accents are, surprisingly enough, a safe bet for your next kitchen renovation project.
The duo speaks to the maximalist trends of today without going overboard. Blue also pairs beautifully with white, woods, concrete, and more, making it a great way to add a pop of color without clashing and overriding the overall look and feel of the kitchen.
Consider tones such as sky blue, azure, classic duck egg, navy, and Aegean teal for kitchen cabinets. Then, add in a touch of gold hues. These shades of blue light up the room and pair effortlessly with gold brassy hardware. The gold accents offer a playful, yet timeless feel to the kitchen, giving the space a sense of history, and makes a huge difference in the overall feeling when one walks into the kitchen.
For some, the blue and gold may appear too theatrical or intense for a kitchen space, so consider toning it down with a two-tone cabinetry set up. This has become a highly sought-after design choice, as it creates depth without becoming overly busy or chaotic.
For instance, one might choose half of their cabinets to be painted a warm-toned white, grey, or cream, while others are painted a deep, saturated blue—Voila!
If you like this playful aesthetic that is unique yet remains universal, then this color palette is for you.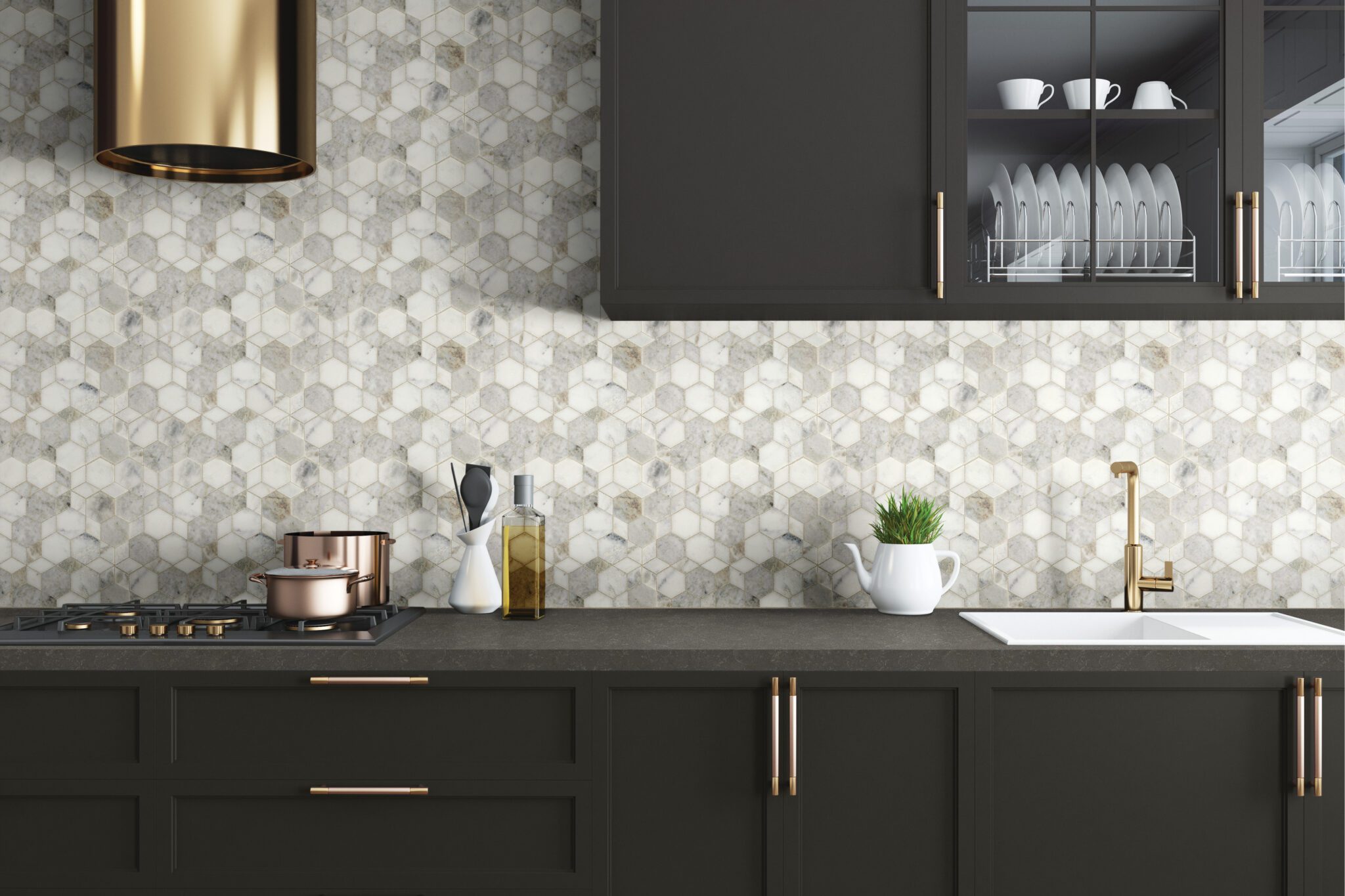 White, Black, & Touch of Grey 
This soothing yet modern color palette is what we like to call "cozy industrial."
It features whites, greys, black, brown, and sage greens. This style was born from the minimalist and Bauhaus influences that make up the revamped embrace of midcentury modern design, beloved by the contemporary interior design and architecture world. In the kitchen, this style incorporates earthy, raw tones that give an air of coolness.
This style, which mixes elements of an industrial kitchen or modern art gallery into a residential space, is another style that appears to be in vogue for the long run. Gutted ceilings, featured patches of grout, black hues mixed with distressed woods, and open shelving, all work in tandem to create an eclectic yet minimalist feel to the space.
A bonus of the industrial style is that it fits well with the stainless-steel appliances craze, which has become a defining factor in homebuilder and homebuyer kitchen value. In fact, HomeLight's survey reported that buyers are about 50% more likely to put an offer on a house with stainless steel appliances compared to houses that don't have them.
When choosing a countertop for this aesthetic, it can be fun to go with grey marble, which is calm yet chic. Research shows that grey is the most popular alternative to white, with 27% of renovating homeowners embracing grey, from grey kitchen walls, grey flooring, and grey backsplashes.
Homebuilders can also implement a matte surface for their countertops by choosing honed, marble slabs that create a 'smooth surface' look and emphasize an industrial feel. For cabinets, choosing a rich black color to absorb the light can be a bold option that gives a statement of edge and modernity while also giving a clean, industrial look.
Recap
In short, this versatile range of kitchen color palettes are safe and aesthetically pleasing packages when looking to create a kitchen that will stand the test of time. They are modern, but not aggressively stylistic. They are distinct in their feel, but remain useful and ubiquitous.
These modern kitchen palettes reflect the broader tastes and lifestyle shifts of today, so our design experts believe these are trends that harbor staying power and will serve as the foundational choices for many homebuilders when designing kitchen spaces.