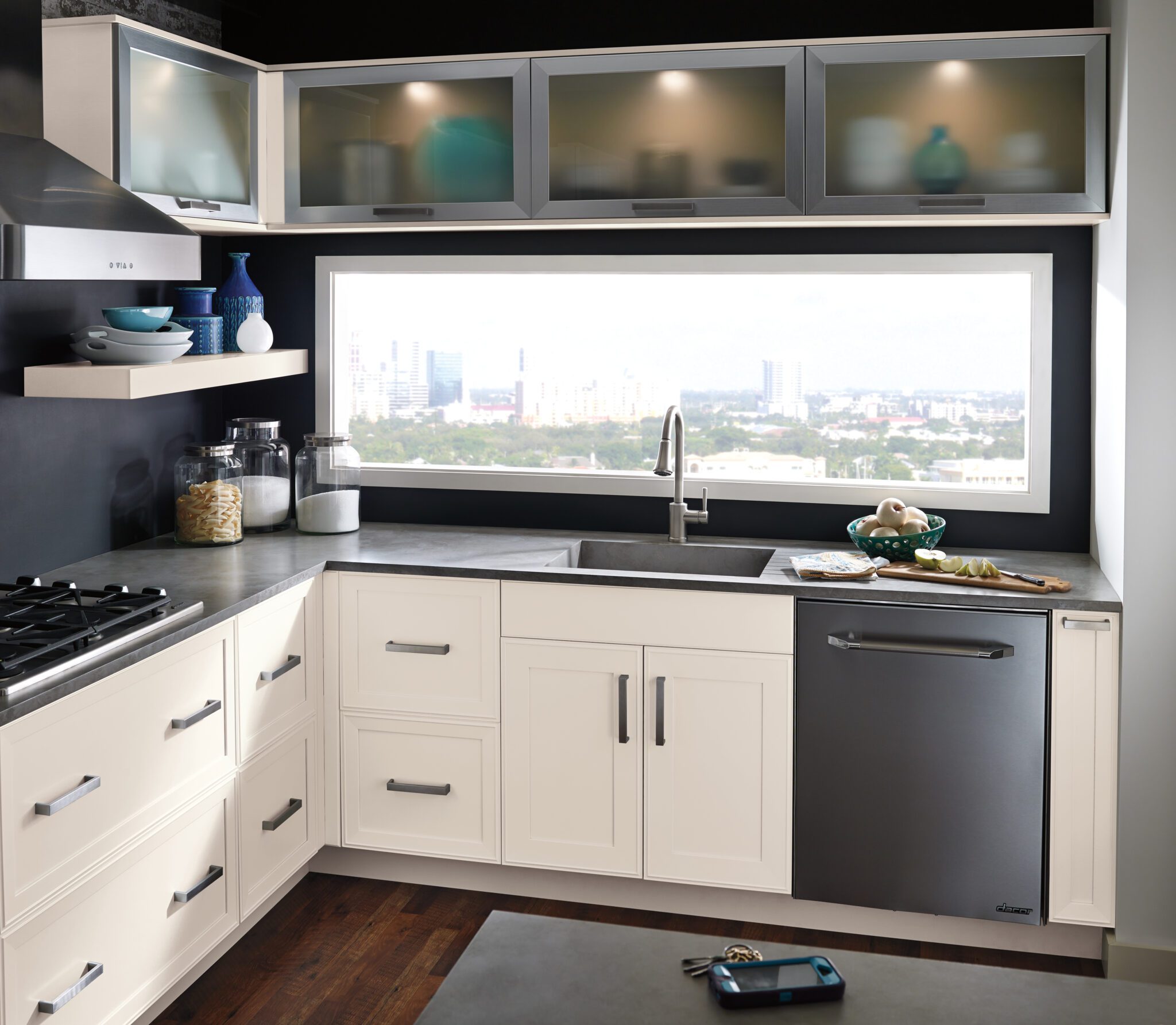 Grey and white has become one of the most in-demand color palettes for today's homes.
This duo owes its popularity to looking fresh and modern while remaining timeless, and it is adaptable to a variety of consumer style tastes. For these reasons, it makes sense to include grey and white home finish combinations in your design studio.
As the leading national installer for select high-value and stylistically important interior finishes including flooring, cabinets and countertops, Interior Logic Group has a pulse on the latest design trends for today's home buyers. Here are our recommendations for incorporating a grey and white color palette into your design studio.
Mix shades of grey with white.
Let's get one thing straight: Grey and white, done right, is anything but boring. Using different saturations in grey tones can really harmonize in a room. The lighter and darker tones play against each other to create visual interest and places for the eye to move.
Think charcoal countertops and slate-grey plank flooring with soft white walls and cabinets and a smoke-colored door. Add black cabinet hardware and silver-toned appliances for an interesting mix of grey and white that's also warm and comforting.
Leveraging the many shades of grey available in home finishes throughout your design studio can provide a wonderful series of options for home buyers, regardless of their unique tastes and preferences.
Add a pop of color.
A nice feature of grey and white is that it can sit back and let other elements of a room shine. One way to take advantage of this feature is by adding a pop (or several) of color.
We love bright red with neutrals, but just about any vivid hue will work, from fuchsia to cobalt to forest green. These bold accents can be implemented as a painted door frame or baseboards/molding, drawer pulls, light fixtures, or an area rug. In fact, painting the ceiling of a room a brighter shade than the walls (especially if the walls are white) is an emerging trend in home design.
Cabinets with glass doors that show off the vibrantly colored dishes and other accent pieces inside also work well with a grey and white design palette. In fact, placing pops of color in clear-doored cabinets is a great strategy for jazzing up any neutral-toned rooms in a home-design studio. Ash-colored cabinets with white shelving are an excellent combination for this choice.
Don't forget to include white to model rooms so buyers have relief from the grey and bright pops, perhaps in the form of a waterfall countertop or tile flooring.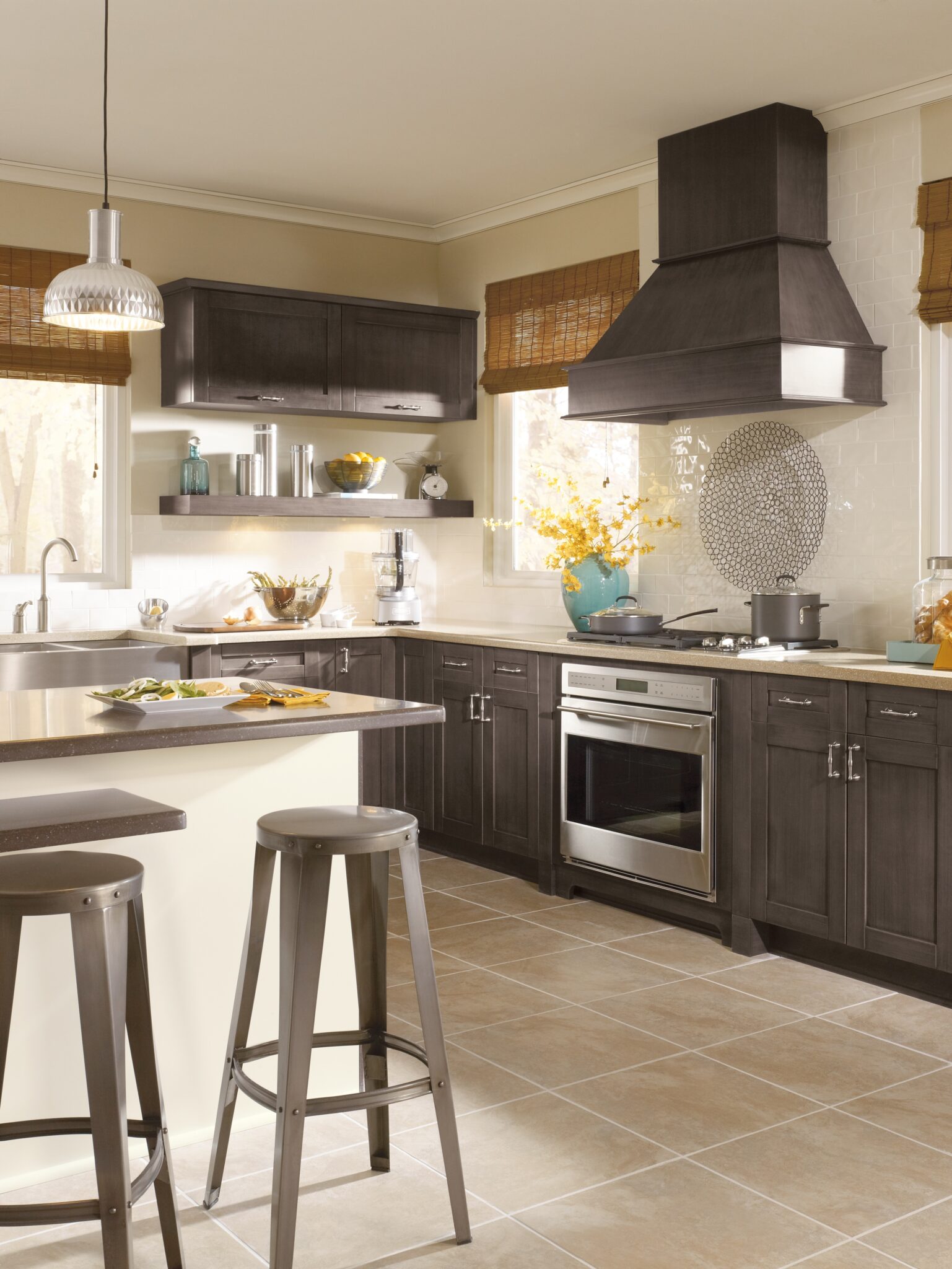 Enrich the look with textural elements.
Beautiful home design isn't all about color—texture plays a major role in giving a room depth and intrigue.
Great texture can be achieved by mixing materials and patterns in a room – such as a marble countertop, metal appliances, and tile flooring with soft seating and a jute rug.
With the grey and white palette, how about shaking up the status quo using textural elements? Instead of grey wood plank flooring, for example, consider plank-style cabinets. Add grey and white marbleized flooring or wallpaper either throughout the room or in an alcove for another unexpected take.
Remember that, just like color, some texture in a room is good, while too much can be off-putting. The idea is not to create a disorienting hodgepodge, but a polished design that is pleasing to the eye and evokes a true sense of comfort and a feeling of home for buyers.
Incorporating grey and white design schemes into your studio can appeal to a wide variety of home buyers. By mixing shades of grey with white, adding a pop of color, and enriching the look with textural elements, builders can create model rooms in their studios that will exceed buyers' expectations.