Contemporary farmhouse has become one of the hottest interior decorating styles among today's homebuyers. In fact, home decorating TV channels, magazines, and websites have been championing this look for a while now, with no signs of stopping.
One of the reasons homebuyers are clamoring for contemporary farmhouse is that it combines country comfort with modern flair in a way that feels delightfully serendipitous. Yet, homebuilders know this style doesn't just happen by chance – successful Contemporary farmhouse looks are achieved by carefully curating materials, designs, colors, and textures to create a harmoniously balanced home design.
Because it can be challenging, many homebuyers need some help in attaining this look in their own homes. Fortunately, homebuilders can readily assist with the right tools and knowhow. Here, ILG has assembled some tips homebuilders can use to help buyers achieve that perfect contemporary farmhouse look in their new homes.
Curate materials that have a refined durability.
Part of the contemporary farmhouse appeal is that it's timeless. That means the elements have to last for years without wearing out or looking dated. At the same time, the look is warm and inviting, so homebuyers will find that anything too modern or industrial seems out of place.
White tile walls or flooring like Emser Tile's Catch™ pattern offer the durability of brick in a more approachable material and color. The white will make any room of the house look spacious, while the brick-like pattern lends an air of nostalgia that appeals to today's homebuyers.
A refined take on a durable product dials up the comfort level and is a hallmark of the contemporary farmhouse style.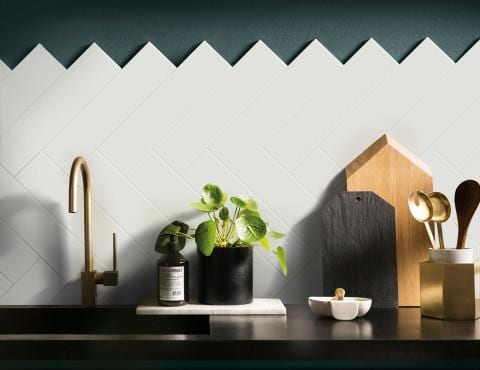 Credit: Emser Tile
Present several options for neutrals.
The contemporary farmhouse look is ideal for mixing neutrals to develop a soothing color palette. Offer neutrals in a variety of textures and patterns to help homebuyers develop richness and depth in their home design.
For example, ILG's Contemporary Farmhouse collection features textured taupe carpeting, a dark plank flooring, solid light grey cabinets, and an array of predominantly white tiles in marbled, chevron, and brick patterns for counters, floors or backsplashes. These products can be combined according to homebuyers' tastes to deliver a customized contemporary farmhouse look in their own homes.
Neutrals provide the most versatile color palette, and they're very much in vogue in home design today, which makes them ideal for creating the popular contemporary farmhouse look.
Offer the look of natural products, only better.
While contemporary farmhouse designs cry out for natural materials, suppliers are now delivering a host of "believable" home décor products that mimic elements of nature like stone and wood for a fraction of the cost and upkeep. These products look beautiful, last a long time, and don't require fussy cleaning or maintenance regimens.
For example, Emser's Alpine™ Glazed Body Match Porcelain stone tile adds a modern touch to a classic wood appearance for flooring that doesn't need special cleaning agents or cause worry about scratches. Suggest pairing it with glass-front kitchen cabinets for a farmhouse look that's both familiar and fresh. Realistic materials like this are ideal for creating a contemporary farmhouse kitchen, bathroom or den.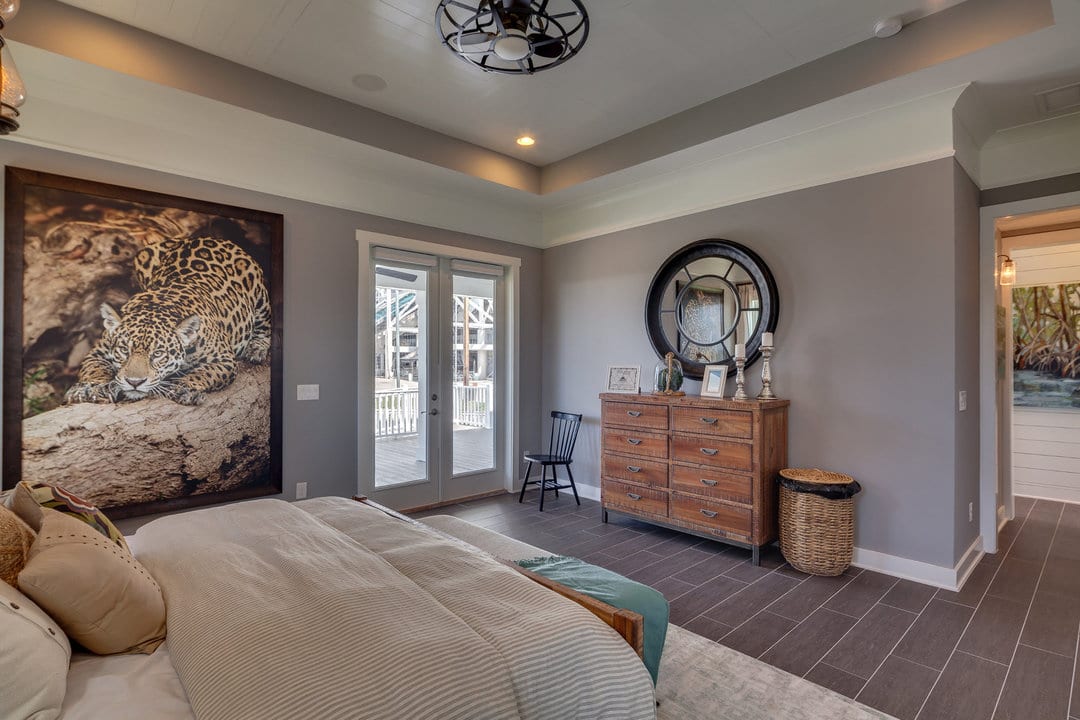 Credit: Emser Tile
Avoid confusing this look with pure country.
While there is a dose of country to this home design, contemporary farmhouse is definitely not flat-out country. The design should be casual, yet sophisticated; heartwarming, yet not saccharine; comfortable but neat.
This means avoiding suggesting anything too rustic or precious to homebuyers interested in the contemporary farmhouse look. Instead, help create an ambiance that's casual and welcoming. Maybe a marble countertop next to a spacious porcelain sink, with a mosaic-pattern tile on the backsplash near a vintage stove.
Contemporary farmhouse is more tongue-in-cheek than country in its approach: clever, but never obvious or over-the-top. Above all, comfort must be balanced with chic and modern in a way that allows people to feel completely at ease.
Homebuyers will likely be coveting the contemporary farmhouse look for the foreseeable future. By curating materials with a refined durability, presenting several options for neutrals, offering "believable" versions of natural products, and avoiding materials that are too country in style, homebuilders can help their customers create perfect contemporary farmhouse looks that they'll love for many years.